Reverse Osmosis Drinking Water Systems
Reverse osmosis systems provide purified water right from your kitchen sink or refrigerator dispenser. They can be connected to your ice-maker providing crystal clear ice cubes and water purity unmatched by bottled water. Our R.O. drinking water systems use the latest in plastics technology to produce the most streamlined and user friendly R.O. systems on the market.
---
Hydrotech Aqua Flo Platinum R.O.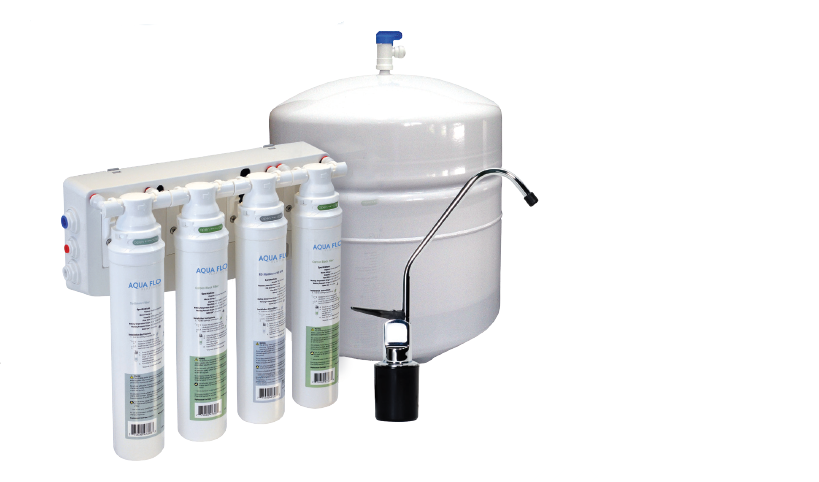 The innovative QC twist and lock design makes services simple. Twist off the old cartridge and twist on the new. No messy sump removal. Aqua Flo Platinum QC systems make drinking water better and easier.
---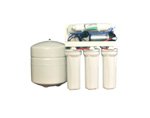 Sterling DWSB Series
Uses readily available standard size cartridge keeping filter replacement costs down. Available with booster pump to purify systems with higher level s of contaminants.
---
Benefits:
Delicious, sparkling–clear drinking water.

Pristine, flavorful coffee, tea and juice.

Cleanly rinsed fresh fruits and vegetables.

Crystalline, harder and clearer ice cubes.

Better tasting soups, sauces and meals when prepared with R.O. water.

Cost effective. The daily cost of bottled water will no longer be a concern.

Convenient. Fresh, clean water, ready at your tap.
Features:
Patented Design: Exclusive manifold plate with patented channel design reduces tubing connections.

Compact System: Space-saving design is ideal for under-sink installations and uses minimal space.

High Capacity Tank: Holds approximately 2 gallons of water without taking up much space.

Automatic Shut-Off: Signals the system to stop making water until more is needed.

Membrane: 50 gallons per day