Water Softener
Sterling IM Series Water Softener
Settings are easy to understand and use. Gives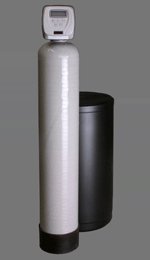 you the option of what time you want regeneration to take place. With the properly set time and program, you simply have to keep salt in it. The six cycle WS1 Series valve is motor driven, there are no solenoids or diaphragms to stick or hang up. This is the most reliable system for consistent performance.
User friendly
Conserves water
Flexible
Reliable

Digital control display
Power outage protection
Warranty
---
Sterling High Efficiency Water Softeners
Think Green!
Uses as little as 4 lbs of salt per regeneration. This represents a 33% savings compared to standard water softeners. Not only do you save substantial dollars, but you reduce the hassle of carrying salt. HE (High Efficiency) water softeners utilize a revolutionary new resin that has higher kinetics resulting in less salt usage, greater softening capacity, better iron removal, and is more tolerant of chlorine.